Past Events
Domini Blythe will perform Shakespeare For My Father at Montreal's Saidye Bronfman Center for the Arts, Feb. 4-25, 2007.
April 10, 2006
Live on Stage in Kansas City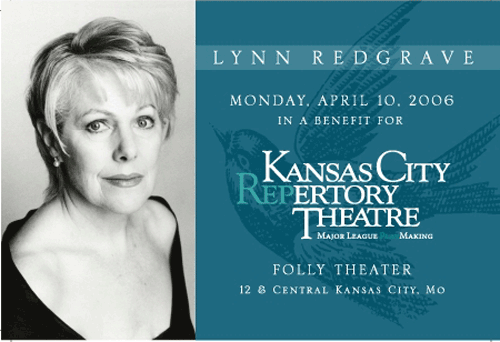 March 30-April 3 2005
Hamden, New London, West Hartford, Stamford
World Premiere

Monday, March 21, 2005, 7:00pm
Washington, DC
Lynn Redgrave and Annabel Clark
in conversation with John Andrews
about Journal
CORCORAN GALLERY OF ART
Click Here for Details

Wednesday, February 9, 2005, 7:30pm
Alice Tully Hall, Lincoln Center
Sweethearts
Lynn and The Little Orchestra Society present Victor Herbert's beloved Sweethearts, a 1913 gem of an operetta filled with memorable melodies such as "Sweethearts," "Jeannette and Her Little Wooden Shoes," and "Every Lover Must Meet His Fate."

Saturday January 8, 2005
Lynn will present the Desert Palm Achievement Award to Liam Neeson

July 7, 2004
Inaugurating "Women Center Stage" at The Culture Project

Grand Opera House's Baby Grand
Wilmington, Delaware
Collected Stories
by Donald Margulies
A witty and moving play by the author of Dinner with Friends
For Three Weeks Only
Review:
"With Stories, an ending that's worth the wait" by Douglas J. Keating, Philadelphia Inquirer
Read More at philly.com
or
here

Special Screenings
The Museum of Television and Radio
Beverly Hills, California
June 11-17, 2004
My Two Loves (1986)
Groundbreaking TV movie about a woman (Mariette Hartley) who finds heself equally in love with a man (Barry Newman) and a woman (Lynn Redgrave)

The Exonerated
Aprl 6-11, 2004
Minneapolis, Minnesota
State Theatre
Imagine everything you did, saw, or touched during a period of 16 years in your life. Now throw it all away. These years were taken away from Suny Jacobs, convicted and sentenced to death for a crime that she did not commit. But her story is not unique, and it could as easily happen to you. "The Exonerated" tells the true stories of six innocent survivors of death row. Their stories, in their own words, are stories you won't ever forget

May 19, 2003
Golden Quill Award

March 19, 2002
Lynn Redgrave, OBE

Saturday January 11, 2003
Palm Springs International Film Festival
Lynn was given the "Career Achievement Award in Acting"
Vanessa Redgrave will present the award
December 30, 2001
Lynn Redgrave has been honored with an OBE (Order of the British Empire)

Friday April 20, 2001 11:30pm
"So Graham Norton"
Channel 4 in the UK
(will repeat on April 25 at 11:30pm)
Tuesday November 28, 2000 7:30pm
Los Angeles School of Film
6363 Sunset Boulevard
Hollywood, California
Lynn Redgrave will attend a special screening of
The Annihilation of Fish
Monday September 11, 2000 7:00pm
Toronto International Film Festival
Screening Deeply
Lynn Redgrave will attend the screening.

Friday June 30, 2000
Mods & Rockers 2000 Film Festival
Gala Opening Night Screenings of Smashing Time (7:00pm) and Georgy Girl (9:30pm)
Grauman's Egyptian Theatre
Hollywood, California

Lynn Redgrave, Rita Tushingham, and Michael York will attend this special screening as part of the "Mods and Rockers 2000 Festival" presented by The American Cinematheque.