Lynn Redgrave completed her successful run at MTC AT NEW YORK CITY CENTER
STAGE I

Directed by Joseph Hardy
Tony Award® and Academy Award® nominee Lynn Redgrave stars in her new play inspired by her need to create a life for her maternal grandmother, a woman she barely knew. Nightingale is a play about a promising woman stymied by society and all but erased by history, a touching personal tribute and a resounding song for all those people whose voices we've lost, or never known.

In the tradition of Shakespeare for My Father and The Mandrake Root comes Lynn Redgrave's latest portrait of her legendary family.

"It is Lynn Redgrave's skill as a performer that allows her to hold the stage for 90 minutes and make us believe the decades are rolling by." – The New York Times

"With her faultless delivery and underplayed relationship with the audience, Redgrave brings us into a very special world." – The Hollywood Reporter

P.J. Ochlan interviews Lynn Redgrave. To listen online click here. The 14 minute interview will start almost immediately in an audio player.

When we die, what mark do we leave? What is left of us to tell the world that once we lived and breathed and laughed and wept? I didn't really know my grandmother "Beanie." Just a few intriguing fragments, little anecdotes, passed down by my mother, about this quiet, cool, distant woman who hadn't been very easy to love. She was the sort of granny who would say I couldn't have a sugar mouse from the tree on Christmas Eve. Who kissed my grandfather's coffin and whispered, "I'm sorry dear." Who once fell in love and who lost a beloved son.
Not long ago, I went looking for Beanie's grave and to my dismay found that her name had been washed away by the acid rain. The gravestone was blank. So I've given her a new name, Mildred. And I've dreamed up a life. A memorial. For no one dies who is remembered. -- Lynn Redgrave, January 2006

Scenic Design by Tobin Ost
Costumes by Candice Cain
Lighting Design by Rui Rita
Sound Design by Cricket S. Myers
Associate Producer Kelley Kirkpatrick
Production Stage Manger David S. Franklin
Stage Manager Michelle Blair
Photos of Lynn Redgrave by Craig Schwartz


"Finding My Grandmother" by Lynn Redgrave

Lynn Redgrave Reads from "Nightingale
Reviews

"A Triple Triumph" -- John Simon, Bloomberg
"Lynn Redgrave spins a tale that moves through the generations of her royal family of actors but centers on the life of her grandmother, Beatrice Kempson. Kempson, beautifully evoked by Redgrave under the direction of Joseph Hardy, was a prudish snob, raised in Victorian England, who married the wrong man for the wrong reasons, showed little or not affection for two of her three children, and died in love with a man she barely knew. The variety of English accents alone that Redgrave employs during this slightly overlong one-woman show would be enough to impress and delight, but it's the seamless way she morphs from being her grandmother, stunned by bitterness, to herself, amused by her own good fortune and chastened by the looming spectre of death, that makes this show unusual and worthwhile." -- The New Yorker
Redgrave Uncorsets a Relative Long Gone. Review by Charles Isherwood.
Lynn Redgrave's loss is audience's gain in Nightingale. Review by Lind Winer, Newsday
Lynn Redgrave takes flight as a solitary Nightingale. Review by Michael Sommers, New Jersey Newsroom
"A desk, a chair, an open script, an actress with a story to tell and a passion to be heard -- that's all it takes for Lynn Redgrave to hold us in the palm of her hand for another of her searching one-woman plays about her famous family." Review by Marilyn Stasio, Variety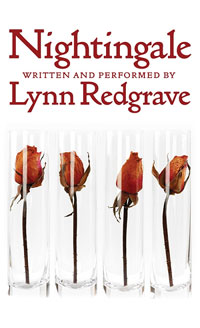 L.A. Drama Critics Circle Award Winner
Lynn Redgrave
Best Solo Performance
for NIGHTINGALE

RAY STRICKLYN MEMORIAL AWARD FOR SOLO PERFORMANCE

Reviews

"It is her skill as a performer that allows Ms. Redgrave to hold the stage for 90 minutes in the same elegantly cut slacks and classic jacket and make us believe that decades are rolling by. By the end, the alchemy of her acting has turned the natty jacket into a worn old cardigan." — Sylviane Gold, The New York Times
"With her faultless delivery, crystal-clear enunciation and underplayed relationship with the audience, Redgrave brings us into a very special world, compounded equally of the English stage and the English aristocracy." — Laurence Vittes, Hollywood Reporter
"Beautifully written and performed" — Terri Roberts, Theatermania
"Redgrave's delightful solo show begins in [a] graveyard, where she masterfully creates a tragic-comical story" — Lovell Estell III, L.A. Weekly
"This bitter-sweet birdsong deserves to be heard by all." -- Andrew Wilson, The Independent Sunday
Feature Articles
Photos from Opening Performance
Nightingale Perches in L.A. (Playbill)
Nightingale is Lynn Redgrave's third play. She is also the author of Shakespeare For My Father (which traces her relationship with her father, the late Michael Redgrave) and The Mandrake Root (loosely based on her mother, actress Rachel Kempson).