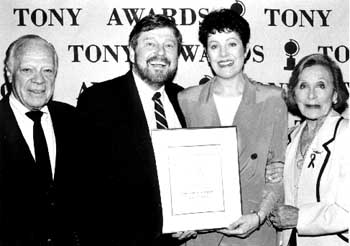 Lynn's first major role in a motion picture (GEORGY GIRL, 1966) garnered a Golden Globe® as Best Actress, an Academy Award® nomination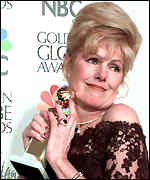 as Best Actress, and many other accolades. For her role as Hanna in (GODS AND MONSTERS, 1998) she won the Golden Globe® (photo, left), the Independent Sprit Award, and the London Film Critics Circle Award, and was nominated for the Academy Award® (Oscar®). In between, she has been nominated three times for a Tony® for her stage work and an Emmy® for her work on television. For SHINE she was nominated by BAFTA as Best Suppporting Actress of 1997. In 2006 she was nominated for a Grammy® for Best Spoken Word Album for Children, The Witches.

Awards & Honors: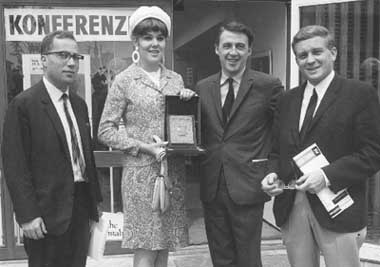 GEORGY GIRL (1967) Best Actress Academy Award Nomination; Golden Globe Award for Best Actress in a Comedy; New York Film Critics Best Actress Award; Golden Globe Nomination for Best Newcomer; BAFTA Nomination for Best Actress
MRS. WARREN'S PROFESSION (1976) Tony nomination for Best Actress in a Play
MISALLIANCE (1977) Sarah Siddons Award (Chicago's Actress of the Year) and Joseph Jefferson Award
HOUSE CALLS (1981) Emmy and Golden Globe nominations
AREN'T WE ALL (1985) Drama Desk nomination
THE SHOOTING (1987) Emmy nomination
DEATH OF A SON (1989) BBC Best Television Actress of the year
SHAKESPEARE FOR MY FATHER (1993) Tony Award nomination; Drama Desk nomination; Elliot Norton Best Actress Award (Boston); Catholic Actors Guild Fred Allen Award; Torch of Hope Award; 1994 Outer Critics Circle Award; 1994 Connecticut Theatre Critics Circle Best Actress Award; 1994 Sarah Siddons and Joseph Jefferson Awards. 1995 William Shakespeare Award for Classical Theatre (Washington DC); Helen Hayes Award nominations (Best Actress, and Best New Play)
SHINE (1997) British Academy Film & Television Awards Best Supporting Actress nomination; Screen Actors Guild Best Cast nomination
WHITE LIES (1998) Gemini (Canadian Television) Nomination for Best Supporting Actress; Show Nominated for International Emmy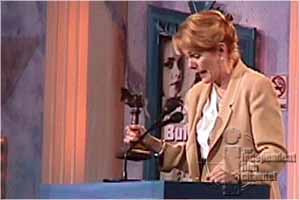 GODS AND MONSTERS (1999) Golden Globe Award as Best Supporting Actress; Independent Spirit Award as Best Actress (photo, left); London Film Critics Circle as British Supporting Actress of the Year. Nominated for the Academy Award® (Oscar®) as Best Actress Supporting; Nominated for the Screen Actors Guild Award as Best Female Supporting.
Recognition for the sum of her work in theatre and the entertainment industry was marked by a 1995 honorary Doctor of Fine Arts by Baruch College, City University of New York, and Doctor of Humane Letters at Center College, Danville, Kentucky. In 1996 she received the Maude Adams Award from Stephens College (Columbia, Missouri), the fourth person to be so honored, after Agnes Moorhead, Helen Hayes, and Julie Harris.
In May 1997 she was selected for the American Express Tribute for Achievement in the Arts during the Helen Hayes Awards at the Kennedy Center.
On December 31, 2001, it was announced that Lynn Redgrave had been chosen to be honoured with the appointment of the Order of the British Empire (OBE).
In January 2003, she was given the "Career Achievement Award in Acting" at the Palm Springs International Film Festival.
TALKING HEADS (2003) Drama Desk Award for Outstanding Featured Actress
In May 2003, she was presented with the "Golden Quill" Award for her contributions to Shakespeare's legacy.
COLLECTED STORIES (2004) Barrymore Award for Outstanding Leading Actress in a Play
KINSEY (2004) Outfest Screen Idol Award, Best Supporting Actress
THE CONSTANT WIFE (2005) Tony Nomination, Drama Desk Nomination, Outer Critics Circle Nomination
NIGHTINGALE (2006) Los Angeles Drama Critics Circle Award, Best Solo Performance