SHAKESPEARE FOR MY FATHER
"The setting is a darkened stage, with a number of stacked chairs, some shrouded boxes, and, barely visible, a large portrait of Michael Redgrave, as Antony, on the wall at stage right.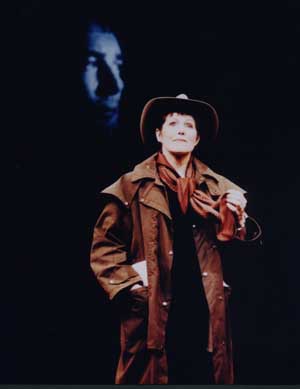 "After strains of music, there are three loud knocks. Enter Lynn Redgrave, in coat and hat and carrying a suitcase; she motions at a work light, which flashes on. Thus begins Miss Redgrave's 'Shakespeare for My Father,' a wonderful evening at the Helen Hayes, in which Miss Redgrave reviews her own life, on and off the stage, in a search for her father and in an effort to bridge the distance between them." -- Edith Oliver, The New Yorker, 10 May 1993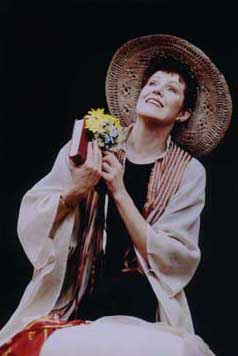 "She interweaves her story with copious extracts from Shakespeare; and the one that seems most painfully relevent is King Lear. Lynn Redgrave casts herself as one of nature's Cordelias: a shy tongue-tied youngest child who cannot heave her heart into her mouth and who even walks in fear of her aloof father.
"But, as Sir Michael lies dying of Parkinson's disease, the barriers fall and the two of them are at last able to declare their love: a situation more common in British family life than we care to admit."
-- Michael Billington, The Guardian, 14 November 1996

"Along the way, Lynn does some savagely funny parodies of her co-stars from Edith Evans and Maggie Smith to Noel Coward and Olivier himself, never forgetting Larry's appalling cruelty to his old rival when Michael started his terrible last illness. Her show is raw with pain and radiant with discovery; the integrity with which she confronts her father's ghost on his own classical territory is the most impressive sight on any London stage."
-- Sheridan Morley, The Spectator, 23 November 1996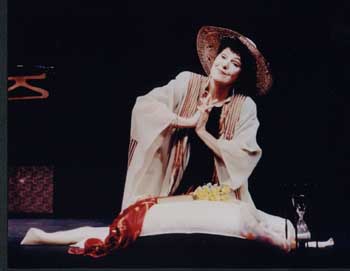 "The way art and life illuminate each other in these interpolations is thrilling, and the actress brings Shakespeare and contemporary audiences closer together than most of them have ever been."
-- John Simon, New York, 10 May 1993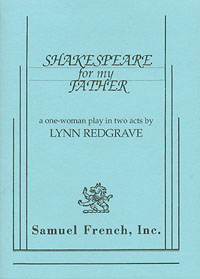 SHAKESPEARE FOR MY FATHER
has recently been published by Samuel French
and may be ordered from their website at
http://www.samuelfrench.com
Their catalogue #21546 $6.00