Previous Performances

Hartford Stage
Hartford, Connecticut
May 24 - June 29, 2007
in Los Angeles at
The Mark Taper Forum
October 4 - November 19, 2006
When we die, what mark do we leave? What is left of us to tell the world that once we lived and breathed and laughed and wept? I didn't really know my grandmother "Beanie." Just a few intriguing fragments, little anecdotes, passed down by my mother, about this quiet, cool, distant woman who hadn't been very easy to love. She was the sort of granny who would say I couldn't have a sugar mouse from the tree on Christmas Eve. Who kissed my grandfather's coffin and whispered, "I'm sorry dear." Who once fell in love and who lost a beloved son.
Not long ago, I went looking for Beanie's grave and to my dismay found that her name had been washed away by the acid rain. The gravestone was blank. So I've given her a new name, Mildred. And I've dreamed up a life. A memorial. For no one dies who is remembered. -- Lynn Redgrave, January 2006

World Premiere
Starring Caroline John
Directed by Lynn Redgrave
Associate Director John-Jackson Almond
The New End Theatre
Hampstead, London
January 17 – February 19, 2006

Caroline John in Nightingale at the
New End Theatre, London
Photo: Tristram Kenton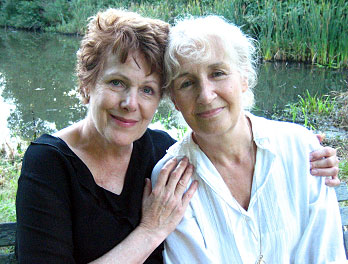 Lynn Redgrave and Caroline John
Photo by Annabel Clark

American Premiere
One Night Only
February 27, 2006
Starring Lynn Redgrave
Directed by Joseph Hardy

April 10, 2006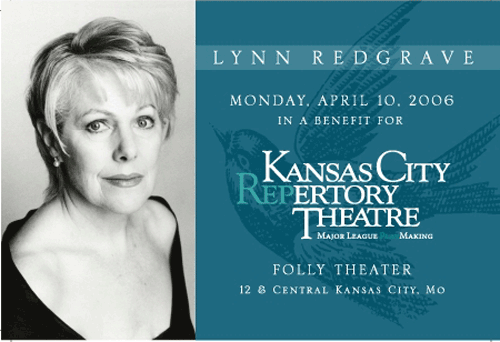 Kansas City, Folly Theater

Reviews
"This bitter-sweet birdsong deserves to be heard by all." -- Andrew Wilson, The Independent Sunday
"An outstanding piece of theatre writing with a performance to match" -- Timothy Ramsden, Review Gate
"A warm, funny and uplifting story" -- Jeremy Austin, The Stage
Feature Articles
Redgrave's Nightingale Soars
London 24
Acting Through the Generations
The Independent
Redgrave Reaches Out to Aid Honduran Village Via a Play
What's On Stage
The New End Theater, London, and the Center Theatre Group / Mark Taper Forum, Los Angeles, have both announced that they will present premieres of Lynn Redgrave's new solo play, Nightingale. Written by Ms. Redgrave, Nightingale is inspired by memories of her maternal grandmother, Beatrice Kempson.
The World Premiere engagement plays from January 17 – February 18, 2006 and stars Caroline John, directed by Ms. Redgrave. The American Premiere of the play is set for an exclusive one-night-only performance at the Mark Taper Forum, on Monday, February 27, starring Ms. Redgrave, and directed by Joseph Hardy.
Nightingale has previously been seen in several sold-out readings, most recently at New York's Culture Project, and the Corcoran Gallery in Washington, DC.
Nightingale is Lynn Redgrave's third play. She is also the author of Shakespeare For My Father (which traces her relationship with her father, the late Michael Redgrave) and The Mandrake Root (loosely based on her mother, actress Rachel Kempson).